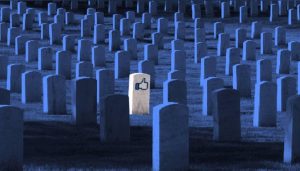 Written by Angela Bruce, RN
Thanks to Kaylee for directing us to a blog post that reminds us how important it is to get our digital house in order.  On August 10, 2019 she provided the link to this comprehensive guide containing current advice and instructions on how to plan for your digital legacy and your assets after you die. The author of the blog states,
With hundreds of millions of social media users, the number of social media accounts of dead people may outnumber those of the living in a few decades. 
But as you consider the eternal limbo of those accounts remember this cold, hard fact: In this digital age, your loved ones will be faced with the complexities of managing your digital assets after you die.
Accessing digital devices like computers, hard drives, tablets, and phones, may be impossible if your loved ones don't have passwords or encryption keys. Not only may they lose irreplaceable photos, important letters and documents, there are financial assets that may be forever lost.
These monetary assets go far beyond your bank account. For example, Bond Brand Loyalty estimates there are currently $16 billion dollars in unredeemed loyalty points in Canada alone, and many of those dollars will never be redeemed if the owner has died with no arrangement to transfer ownership of the points. According to a report in the Globe and Mail, by the end of 2020, the average Canadian will have accumulated $10,000 worth of digital assets, including money stored in online payment accounts, loyalty program rewards, virtual currencies and online investment or bank accounts.[1]  Keeping track of your digital presence is a sound, personal, and economic practice.
Digital assets to consider when making an inventory of  your online presence include:
Financial Access
Bank accounts
Online payment accounts (such as PayPal)
Online seller accounts (like Amazon™ or eBay®)
Brokerage accounts
Cryptocurrency investments
Communication
Email accounts
Social media accounts
Forums or chat rooms
Blogs or websites you own
Online gaming accounts
Cloud Storage
OneDrive; Dropbox, GoogleDrive etc
Digital photos, videos and music files
E-books or audio books
Loyalty/Rewards Programs
Credit card loyalty program rewards
Travel rewards programs (such as Air Miles)
Retailer loyalty programs
Copyrights
Logos, illustrations, artwork or animations you own
Digital copyrights, trademarks or patents[2]
Adding to the confusion, there is a wide diversity in policies for dealing with the death of platform members.  Legislation on digital death has not kept up with the rapid pace of technological advancement.  Worldwide, there is a lack of established laws and this has allowed companies to choose their own rules.  Social media platforms have a patchwork of ways for dealing with a member's death.  Customer loyalty programs may not be transferable. Purchased digital media assets, such as iTunes or eBooks, cannot be transferred.
Three decades ago, there was no such thing as planning for your digital death. Now it is increasingly seen as a task that is essential to ease the work of our loved ones after our death, allowing access to funds to pay bills, cover other expenses, and to manage or close accounts. Think of it as advance care planning for your digital life. Tackling this chore will save many hours of stress and heartache for your loved ones and potentially save priceless memories, assets, and facets of your life from being irretrievably lost in the cold vacuum of cyberspace.
Have you had any experiences dealing with digital death? Please share your story in the comments section!
Warm regards,
Angela Bruce
Looking for more information on this subject.
April 5, 2015 by Kath Murray
---
[1] https://www.theglobeandmail.com/investing/globe-wealth/article-dont-forget-about-digital-assets-in-your-estate-plan/
[2] https://www.cibc.com/en/personal-banking/advice-centre/family-finances/estate-planning-for-digital-assets.html