Advance Care Planning Day in Canada, and National Healthcare Decisions Day in the USA, is quickly approaching. On April 16, 2016, it's time to speak up – and have discussions with friends and family members about your wishes for end-of-life.
Life and Death Matters created Care Planning Cookies, edible cookies with a message inside, each one intended to stimulate conversations about living well and dying well. One hospital in Ontario is ensuring that each patient receives a cookie on their meal tray, and that family and staff are given cookies with their food and beverages in the cafeteria, leading up to April 16th.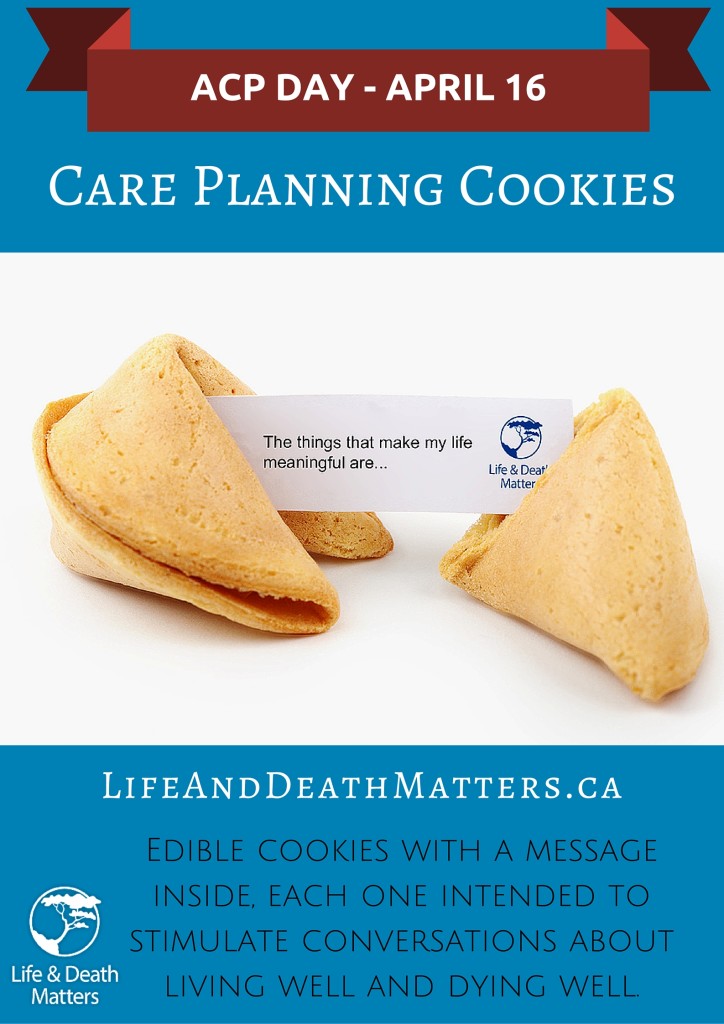 There are many online resources to help you with advance care planning.
Speak Up offers "an interactive workbook to help you complete an advance care plan that outlines your wishes about health care decisions in the event you are unable to do so", along with printable workbooks and quick guides.
NHDD (National Healthcare Decisions Day organization) offers advance care planning resources, and ways to join the movement.
Five Wishes is used in all 50 states and in countries around the world. Five Wishes can be used in any part of the world as a helpful guide and documentation of your wishes, and is available in 28 languages.
The Conversation Project is dedicated to helping people talk about their wishes for end-of-life care. Watch the co-founder, and Pulitzer Prize Winning Columnist, give an overview on The Conversation Project and why it is so vitally important.
To find out what's happening in your community, use a Google search for "advance care planning day events 2016 in [city]" and you'll get a plethora of ACP Day activities that are happening in your area.
Leave a comment and share what you're doing on April 16th,
and let's start the conversation.