We are so excited to announce the launch of our newly designed website, which has been a labour of love (and a few tears) over the past year.
The new Life & Death Matters site was developed based on feedback and requests from our students, educators, and partners – thank you – and provides an improved user experience, better access to course info and resources, and offers new opportunities to engage our valued healthcare community.
Jump To Section
---
Better Site Navigation
One of the most frequent support questions we received from users was that they were lost trying to find content on the site. We have taken that feedback and improved site navigation to make your online experience as smooth as possible.
From the main menu, you can now access a full list of resources and materials broken down by use, case, and role. Students, educators, teachers, healthcare workers, and even families can now access relevant materials made specifically for them.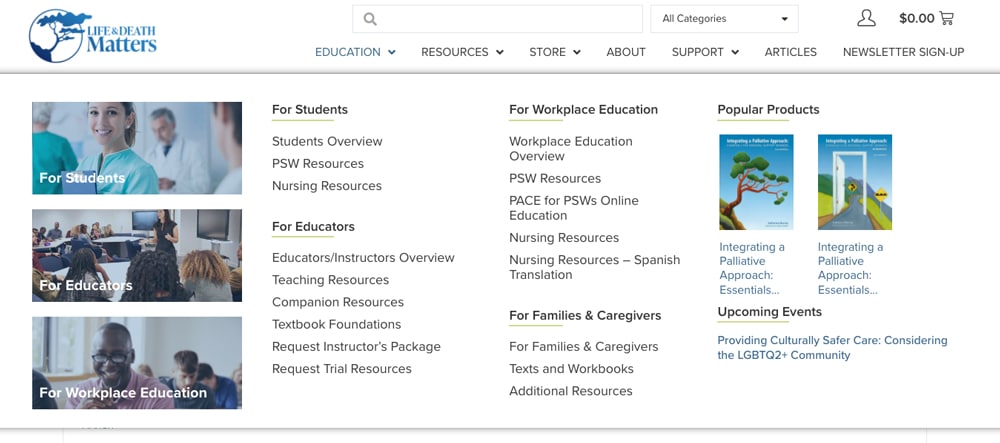 ---
Improved Access To Course & Online Materials
Many of our course members requested a more straightforward way to register and access their course materials. We listened, and have made it as easy as 1-2-3.
For Existing Memberships
Visit the My Account page;
Log in using your username and password;
Click on your desired resource under Access Resources. Based on your membership type, the relevant resources will now be available for you to view.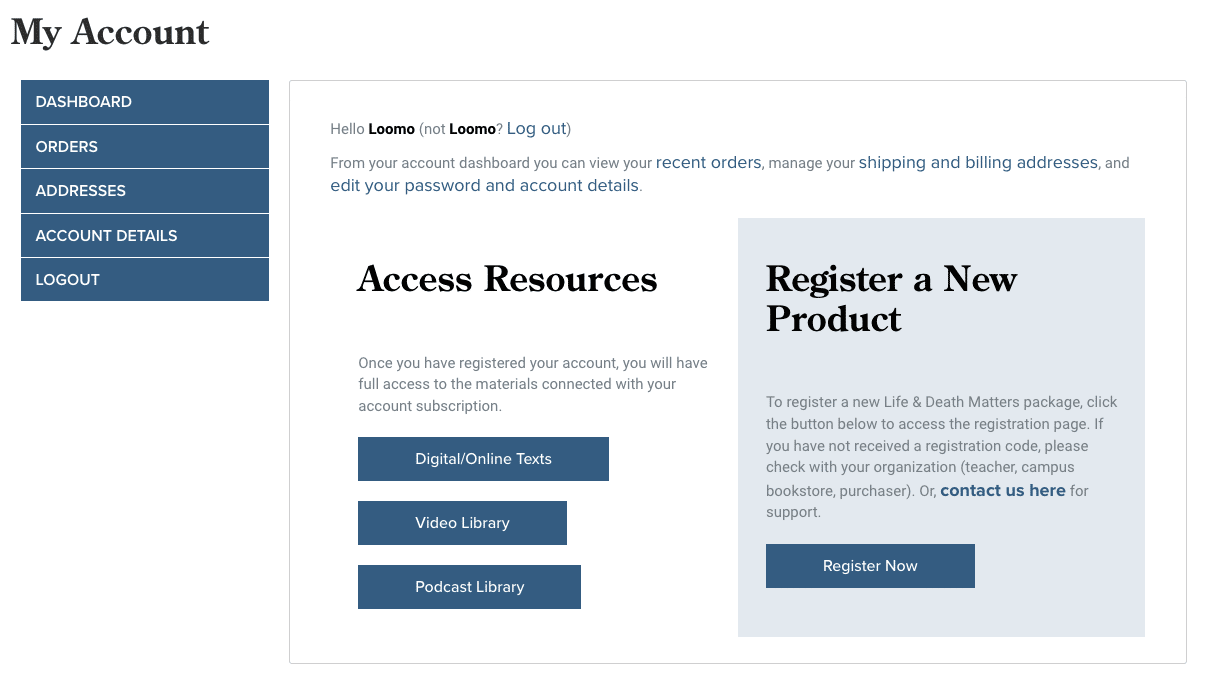 Note: Once you have logged in you can also navigate to the resource library at any time using the Main Menu navigation bar:

For New Membership/Registrants
Visit the My Account page;
Select Register a New Product;
Enter your Product Purchase Code provided when you purchase an applicable membership or the code provided by your employer/educator.
Click on Redeem. Your membership will now be activated.
Click on Back to My Account
You can now access the resources provided by your specific membership type from your account or the main menu navigation.

---
News & Events Calendar
Regular events have become a major part of how Life & Death Matters supports our healthcare community. We're excited to share our new events calendar and schedule that will provide an ongoing list of webinars, in-person sessions, and unique opportunities to engage with each other.
Visit the Events Calendar Page to see a list of upcoming events, sort them by Month, Week, Day, or a full list, and register to take part.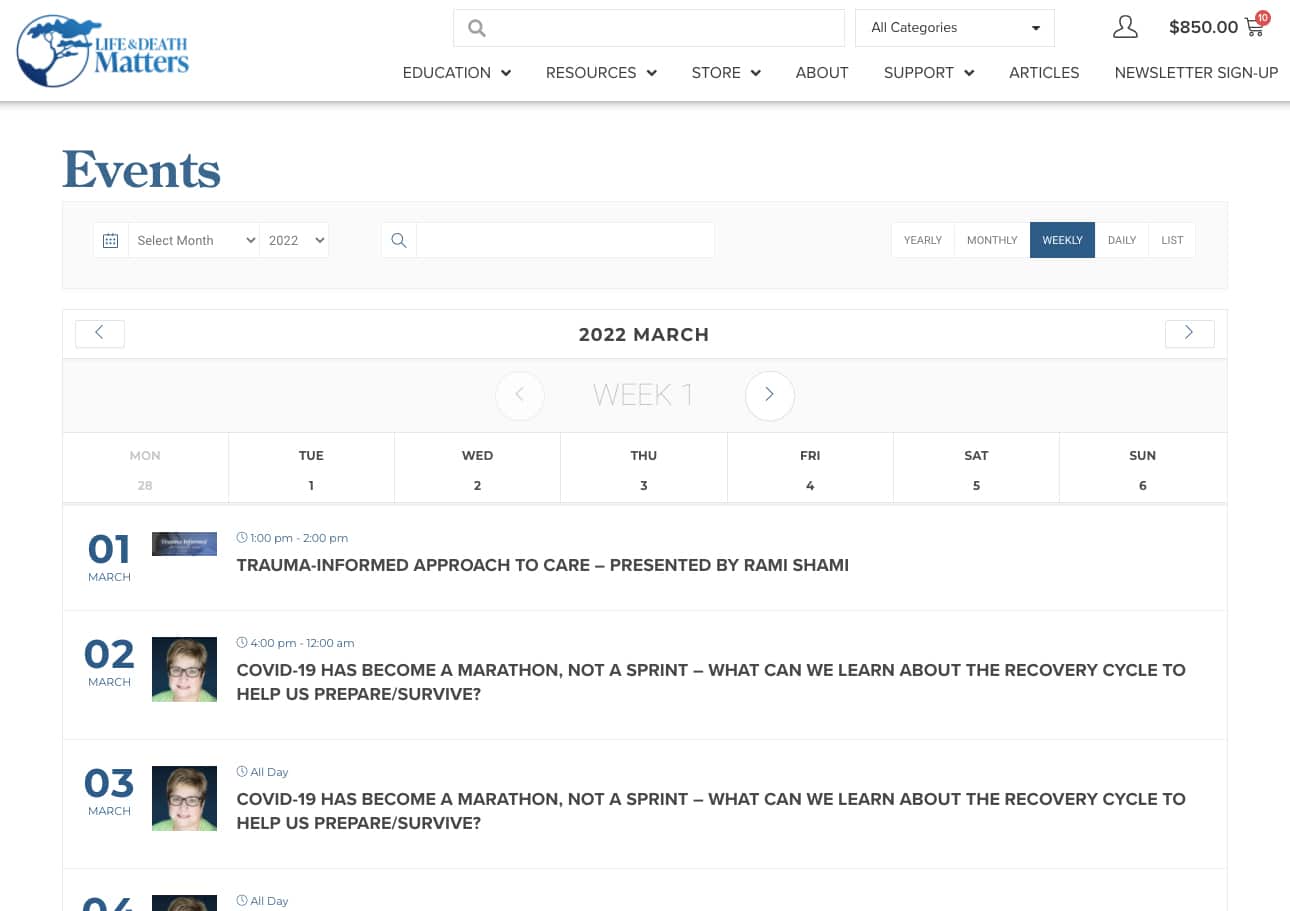 ---
Easier Purchasing Process
For Individual or Bulk Purchases (Credit Card Only)
For membership purchases made with a credit card, you will now be provided with your Membership Registration Code(s) directly after completing your online purchase via email and on the Order Completion page.

You can also download your codes at any time from your My Account >> Orders page and view which codes have already been registered under "Used Date".

For Bulk Orders (For Institutions & Organizations with Purchase Orders)
For our education partners, we have also improved the purchasing experience for student textbooks and online material access. Simply:
Select the number of products you want in your order.
Select Prepay by cheque during the checkout process.
Enter your Purchase Order Number
When we have received payment for your order, your Registration Codes will be sent via email to the email address listed on the account.

---
We Want Your Feedback
As with any new website launch, we want to know what you think! Provide your feedback (what's working, any issues you might be having, ideas for how to improve) to the Life & Death Matters team by visiting the Contact Page and providing your feedback in the message window!
We can't wait to hear from you.
~ Life & Death Matters