Thank you for the notes, emails, thoughts, calls and concern shared since we notified you of the death of our son last month.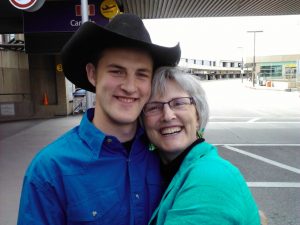 I was concerned that some newsletter recipients might feel that it was too personal to share, but I am such a believer in the power of community. One nurse leader/educator wrote that she was inspired by our generosity in sharing with the learning community that we have nurtured. Thank you. I believe and have experienced that when we mourn with those who mourn and comfort those who stand in need of comfort, that we are all strengthened. I understand that the word "comfort" means, "with strength" or "great strength". We have felt stronger in connection than we would in isolation. Thank you for sharing our burden.
Interesting, that same nurse educator commented on our commitment to optimizing end-of-life care. Over the years I have taught how "end-of-life care" can mean everything or nothing, where hospice and palliative care by definition include "care during bereavement." Over the years I would say that we might first meet a family in the ER when their loved one has died, and the hospice or palliative care that we provide could be a link to bereavement services. Even in all the talk that I do about death, I did not contemplate that it would be us who would experience a sudden death, that it would be me who would need to be reminded of bereavement services. And it was a few weeks after Geordie died that I remembered,
Oh, VICTORIA HOSPICE – we should check out their services for the grandkids and for us!"
And, how incredible to phone, and make an appointment for myself, and an appointment for a grandson to see a dear colleague Allyson, a specialist with kids and grief. And in reaching out to Victoria Hospice, I also reached out to Virtual Hospice and their site for kids grief, and to Andrea Warnick and her podcasts and online support for kids and grief. If anyone is looking for a counsellor who provides online counselling, please let me know. And if you provide online bereavement counselling, please let me know and we will connect you.
For those who are interested in how we are doing, what we are thinking and feeling, please keep reading.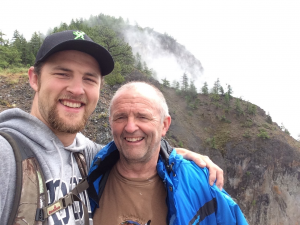 Ted would say that he feels at peace. Some of that peace comes from his belief in eternal life, in the feeling that Geordie is alright, and the hope that he will see him again. Some people express concern that he is "not grieving." But he IS grieving. He is much more an instrumental griever, and is busy working in Geordie's workshop, sorting his tools, repairing things that need repairing, building a tool kit for Geordie's wife and one for the baby, and getting tools and boats and and… and… ready for sale. We were also thrilled to have some of Geordie's bonus First Nation family join us for dinner last week, and basked in their presence and spirit.
As for me…. Well, I am much more a verbal processor…. And so… I have found healing in: good long walks with friends (one on one), the sharing of stories, experiences, beliefs, hopes, worries and frustrations, meals with loved ones, lying on the couch listening to segments of the recordings of the funeral and of the "Last Night on the Trail" (an evening of story and song), reading cards and emails that have arrived, and last night I wrote Geordie a nice long letter. Overall, I still feel very grateful that we had Geordie for 30 years. I am glad that he did not suffer. At times I am cross, irritated and mad that Geordie who cared for soooo many people was soooo careless with his own safety. I am confident that he learned well how to walk by faith, and love and serve openly and without judgement – perhaps the most important lessons in life. On a practical level, I wonder how things work in the world of spirits, and what he is up to now. I am open to your thoughts if you want to connect with me and share.
I just wrote a Facebook post about social hibernation – and would love to hear your thoughts. That will be added to the blogpost soon.
It is amazing to me to think of the "learning community" that we are blessed to be part of, across Canada, the US and Mexico. Ted and I thank you so much for your words, wishes, hopes and happiness. Please let me know what you do and do not want to hear about in this personal/professional space. I am happy to hear any feedback and advice, happy to have your questions and your comments.
Until next month,
Kath and Ted