I am deeeelighted to announce, the new: Frances Montgomery Compassionate Communities Caregiver Award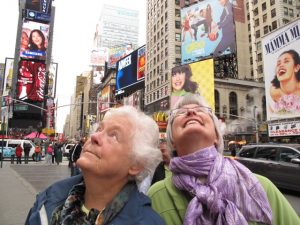 (Photo of Frankie and myself in Times Square in New York City a few years ago)
Created and Sponsored by Life and Death Matters
The Award
This award celebrates the immense contributions of the social community in caring for people at end-of-life and acknowledges that care of the sick and the dying is "everyone's responsibility".  This award acknowledges the invaluable contribution of community members who provide care and support for people throughout the living-dying and bereavement process. It is presented to an individual who is a dedicated "compassionate community caregiver". It is hoped that the award will be used to help the individual access education or educational resources to increase their care competencies. (This award is for someone who lives in British Columbia.)
The Inspiration for the Award
The award is inspired by Frances Montgomery, an extraordinary compassionate community caregiver. Frankie, a retired nurse, has cared for her parents, in-laws, husband, extended family, friends and community members for over six decades. At 88 years of age, she continues to respond to and provide care for friends and those in her neighbourhood.
I (Kath Murray, founder of Life and Death Matters) often say that "I came to hospice nursing as a child". It was Frankie (my aunt) who introduced me to care for the dying. Frankie taught me about community, casseroles, custard and caregiving. With her as my mentor, I learned about dying, care of the dying, care of the body after death. And watching her, I knew that care of the sick and the dying is "everyone's responsibility". From these childhood experiences, I became passionate about the need for excellent education and resources to help health care workers, nurses, and family members feel more confident and to be more competent in caring. This inspired my writing of the text, "Integrating a Palliative Approach: Essentials for Personal Support Workers" and the more recent text, "Essentials in Hospice and Palliative Care: A Practical Resource for Every Nurse".
The Recipient
The award will be presented to a dedicated compassionate community caregiver, who works in a paid position, as a volunteer or as an informal caregiver. The caregiver might, like Frankie be a nurse or health care assistant, but the recipient might be a hair stylist, taxi driver, mechanic, gardener etc. This person will understand the needs of the dying and bereaved and will go out of their way to respond to those needs.
Eligibility
An individual, living in British Columbia, who has provided compassionate care and support to patients, loved-ones, neighbors and /or friends when dying or grieving, over a sustained period of time.  This person is one who could use the award to enhance their care competencies.
Application
An individual can apply for the award (requires two additional letters of reference) or can nominate another person for the award (requires one additional letter of reference).
In the application letter, introduce the person, and in a maximum of 500 words, describe the person's contribution to caring for the dying and bereaved in their community. You may also want to describe what the person will do with the monies when received.
Selection process
The British Columbia Hospice Palliative Care Association's (BCHPCA's) Awards Committee will select the top applicants and forward the applications and recommendation to Life and Death Matters. Life and Death Matters will make the final award decisions, based on how closely the applicant reflects the inspiration for this award.  If there are several equally outstanding applicants, Life and Death Matters may enter the names in a draw to determine the recipient.
What
The award recipient will receive a cheque for five hundred dollars ($500). The recipient may use this to attend an education course/session, to purchase books, to participate in self-care, or any other project or initiative to enhance his/her care competencies.
Submissions
Print and complete Application Form
 Timeline
Award applications accepted between January 5 – March 31st, 2017
Award presented May 26, 2017 (BCHPCA Awards Luncheon)
Please submit your application and supporting documents to BCHPCA, by:
Mail:  Suite 1100 – 1200 West 73rd Avenue
Vancouver, BC V6P 6G5
Fax:    604-267-7026
Email: office@bchpca.org