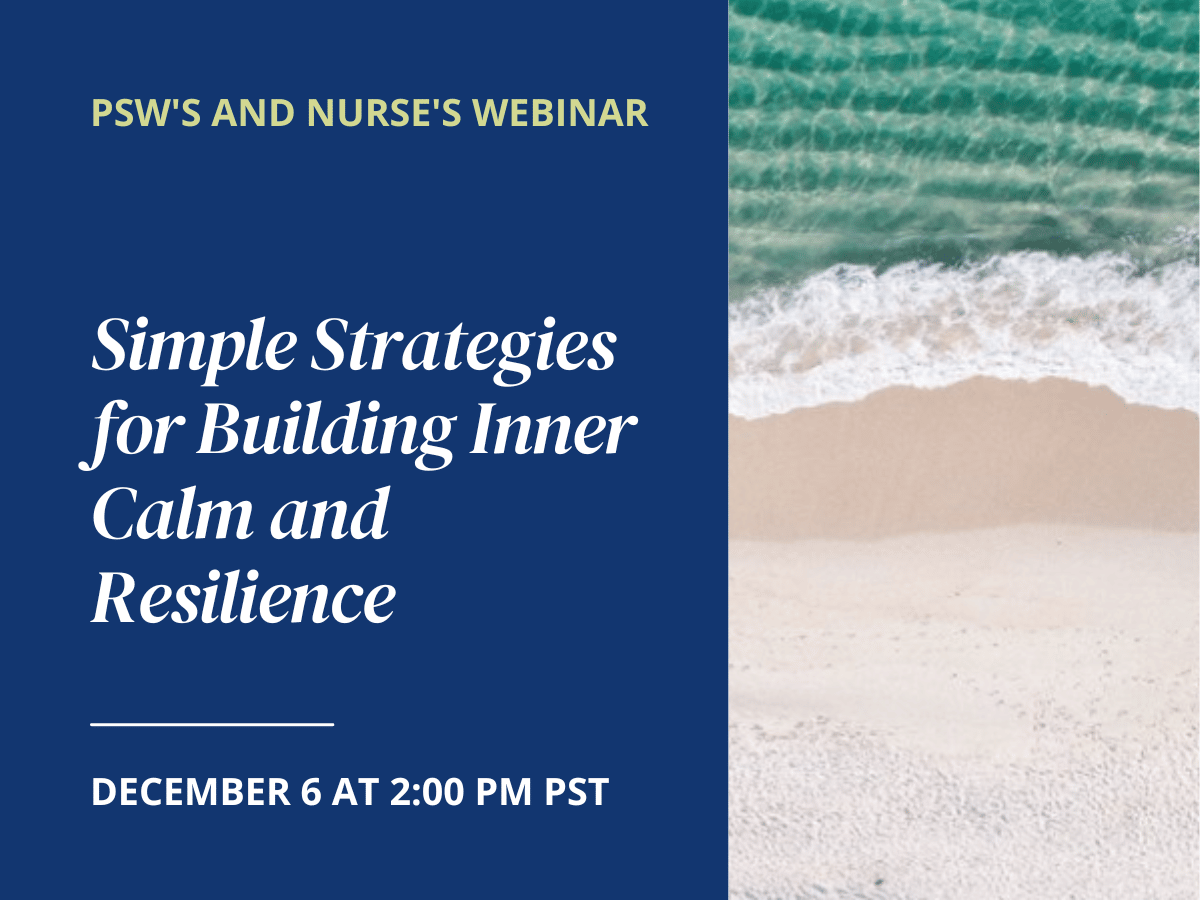 Simple Strategies for PSWs and Nurses: Building Inner Calm and Emotional Health
Personal support workers (PSWs) are key members of the palliative care team – often referred to as the "heart and hands of the team." They experience considerable stress, often working understaffed, and in difficult, emotional situations with people who are declining and dying. This webinar focuses on building skills for remaining calm and centred in these stressful and difficult emotional situations. Participants will learn about the role of the vagus nerve in regulating stress and relaxation responses. And are invited to experience eight practices for activating their vagus nerve to help remain calm in their work, and to build emotional resilience in their lives.
Learning Outcomes
At the end of this webinar participants will:
Be able to explain the regulatory role of the vagus nerve in the human stress response.
Learn a variety of surprisingly simple techniques for building inner calm and resilience when providing palliative care, including:
Somatic Stretching and movement
Facial massage and acupressure
Acupressure Tapping with Affirmations
Breathwork and aromatherapy
Mindfulness and meditation
REGISTER NOW
**all fields are required. Form will not submit unless all starred (*) fields are completed. A successful form submit will bring you to a 'Thank you' page**
About Jessica Knox
Jessica Knox is the owner of A Balanced Body Wellness Clinic in Victoria, BC. She's a Registered Massage Therapist, as well as a yoga and Pilates instructor. Jessica has been working as a healthcare practitioner since 2001, and joyfully leading yoga classes and workshops since 2000.
Jessica took her Therapeutic Yoga and Pilates classes online in 2020, teaching live weekly ZOOM classes and creating an On-Demand Video Library. It contains Therapeutic Yoga and Pilates classes and Heal Your Body workshops of varying lengths for all levels. Designed to help empower people to heal their bodies through movement, mindfulness, self-assessment, self-massage, yoga, and Pilates, she hopes it will be a tool to bring more self-care into people's lives.
The emotional distress and anxiety Jessica witnessed during the pandemic inspired her to create a Heal Your Nervous System workshop to help people regulate their nervous systems and find balance. The webinar titled, Simple strategies for PSWs and nurses: Building inner calm and resilience for providing palliative care is a version of this workshop created specifically for Personal Support Workers and nurses.