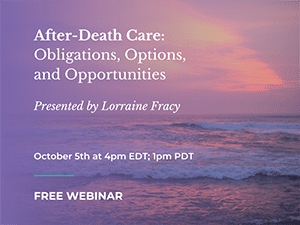 FREE PSW Webinar October – After-Death Care: Obligations, Options and Opportunities
Guest Speaker:  Lorraine Fracy- Client Services Manager at the Royal Oak Burial Park; Member, Green Burial Society of Canada Board of Directors;  Government and Legal Chair for the BC Funeral Association.
Register for this webinar to learn with Lorraine about new options for after-death care.
Lorraine will be discussing all the topics that many of us (and the people we provide care for) put off thinking about until its urgent! Adding this information to your caregiving tool kit will be helpful for the families you provide care for as well as for you and your loved ones. Lorraine is a passionate speaker and educator about funeral care and bereavement services. With over 25 years in after death care, she has a wealth of knowledge in after death care to share.
What people are saying
"With the facts from Lorraine, the decision making becomes so much easier!"
In this webinar, you will:
1. LEARN:
Requirements versus options in after death care
Responsibilities of the funeral home versus those of the cemetery
"I have grandma's ashes – what's next?"-  The do's and don'ts of ashes
Laws and requirements governing memorialization.
2. CHECK YOUR KNOWLEDGE
Do you know the differences and requirements for these different disposition options?
Cremation
Burial
Green burial.
3. EXPLORE NEW PRACTICES
What are alkaline hydrolysis and terramation (aka, human composting).
This webinar is suitable for PSWs,HCAs, CCAs etc., as well as nurses and other healthcare providers interested in learning about palliative and end-of-life care.
About Lorraine Fracy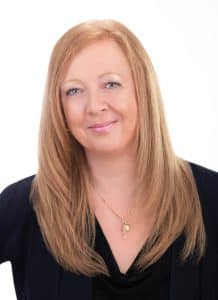 Lorraine Fracy is the Manager of Client Services at the Royal Oak Burial Park, a 54 hectare burial park that has been serving the local community for over 100 years!
She herself has worked in bereavement care and funeral service since 1996, is currently a director on the board of the Green Burial Society of Canada, was the president of the BC Funeral Association from 2015-2017, and is the current Government and Legal Chair for the BCFA. Her passion and dedication to her work have enabled her to make a positive impact on the funeral profession in British Columbia.
REGISTER NOW