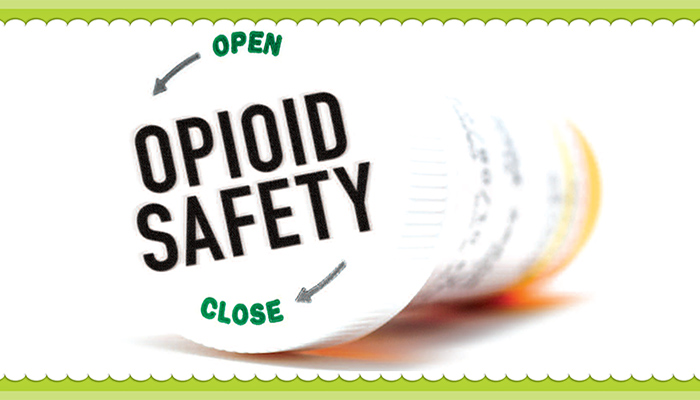 Managing pain and dyspnea for people with life limiting illnesses requires safe opioid use. Dyspnea is one of the most common symptom experienced by people with COVID-19, so this is a good time to review safe strategies for using opioids.
Opioid misuse can be minimized by using risk assessment tools, contracts for opioid use, and following guidelines for safe storage and disposal. The following are examples of tools you might see or use to support safe use.
Risk Assessment Tools
When a pain or dyspnea assessment indicates the need for opioids for symptom management, a risk assessment tool can be used to help to identify those people who are more likely to struggle or be struggling with addiction issues. Identifying these people before beginning opioids can help the health care team safely manage their opioid use.
Four standardized tools are available at the website https://Opioidrisk.com. The tools vary from a 1 minute self-report to a 5 minute interview tool, offering a range of ways to assess the risk of opioid misuse.
Tell us about the tools that you use in your location. How are they different? Please post into the comments section, if possible.
Contracts and Agreements for Safe Opioid Use
Part of process for initiating opioids could include the discussion and signing of a contract, clearly outlining the person's responsibilities for safe opioid use, including storage and disposal of medications. The contract facilitates the discussion around safe opioid use and will help establish the parameters required for safe opioid use in the home.
What types of contracts or users agreements for opioid use are you familiar with? Are they used before beginning opioids? Please add your document/contract or link it into the comments here. It would be interesting to see what is used for ensuring safe opioid use in different locations in Canada and the USA.
Tell us your thoughts on this contract linked here. Which parts are helpful and which parts don't you like?
Guidelines for Prescribing Opioids for Chronic Pain
2017 Canadian Guidelines for Opioid Use for Chronic Pain
Opioids -How to Use Them Safely
Guidelines for Storage and Disposal
Completing a risk assessment and contract with the person receiving the opioids can help facilitate safe opioid use. Including the following key steps (from www.healthcareprovidersolutions.com) when handling opioids will help decrease the risk of misuse and diversion:
Counting controlled substances at each visit for each patient, regardless of the risk of diversion in their home.  This practice is helpful for many reasons not just identification of possible diversion but may help to identify diversion early.

Limiting the supply of controlled substances.  In situations where diversion is known or suspected, daily deliveries of the controlled substances needed by the patient may be made or limiting the supply to just a couple of days is implemented.

Limiting access to the controlled substances.  This may be in the form of a lock box in the patient's home with only certain individuals and hospice staff having access.

Working with the patient and family to relocate the patient to a more controlled environment such as a nursing home or hospice inpatient unit.
Health care providers need to know how to safely dispose of opioids. The following are guidelines developed for health care providers in the USA for disposing of opioids. Check for specific policies and procedures at your location.
Resources for Safe Opioid Use by Health Care Professionals and Family
Institute for Safe Medication Practices Canada – Opioid Stewardship – Brochures and downloads available
Fraser Health: Principles of Opioid Management – with specifics of safe handling and disposal of fentanyl patches
Four Strategies for Managing Opioid Side Effects
Strategies for Harm Reduction
Implementing any of these strategies for harm reduction may be helpful in reducing the current opioid crisis. Consider how to respond to people experiencing addiction with compassion and to support them in their rights to equal health care.
Canadian Nurses Association – Harm Reduction
BC Nurses Union – Position Statement on Harm Reduction
Compassionate Care for People with Addictions
Update of blog originally published in 2017