Moving a loved one to a long-term care (LTC) facility can be stressful and difficult for all involved. Family may struggle to acknowledge they can no longer meet the person's care needs, and that the person's health will continue to decline. For a person who identifies as LGBTQ, and their family, there are added concerns, such as wondering whether you/your loved one will receive fair, unbiased treatment from staff, and whether other residents/families will accept you/your loved one. The top concerns expressed by LGBTQ seniors1 considering a move to long-term care include: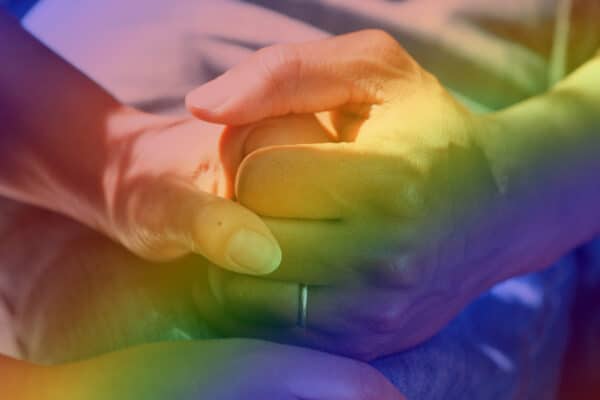 Fears of mistreatment in a care facility by staff or other residents
Fears of isolation and loneliness made worse by transgender identity
Concerns about the lack of health care system and provider inclusion.
LGBTQ seniors fear renewed discrimination upon entering long-term care, and some respond by saying, "We"re going back into the closet." They fear they will suffer the same discrimination they experienced when younger, and do not want to repeat the experiences.
Discrimination in health care is paradoxical. It is in opposition to the basic tenet of medical care, i.e., "Do no harm" and is also in opposition to the principles of palliative care, that state palliative care is for all people with life-limiting illness. And yet we know that people have experienced discrimination in acute care, long-term care and community care.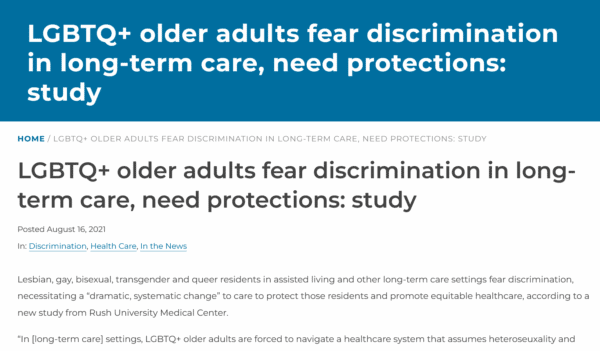 Palliative care and a palliative approach are based on inclusivity – palliative care is for all people with life-limiting illness, in any care setting. The following strategies from Life and Death Matters were written specifically to help PSWs and nurses provide compassionate, empathetic palliative care, for any person with a life-limiting illness. The strategies included from Kim Acquaviva are written specifically to help health care professionals build an LGBTQ-inclusive palliative care. And because palliative care is founded on being inclusive, these strategies can be adopted to help health care professionals anywhere to provide inclusive care, in any care setting.
Strategies for providing LGBTQ-inclusive palliative care
A caregiver who is not LGBTQ-inclusive, may not be aware that their practices are not-inclusive. It is possible they haven't explored or questions their personal fears, beliefs, and values, (their "baggage"), related to LGBTQ people. It is also possible that they have never had to put their "baggage" to one side before – that this concept is entirely new to them.
The Life and Death Matters' resources2,3 identify self-awareness in care providers as key to providing compassionate and inclusive palliative care for any person, including those who identify as LGBTQ. The first chapters of the PSW's and nurse's textbooks focus on teaching ways for PSWs/nurses to:
Develop their self-awareness
Explore and understand their personal beliefs and values (their baggage)
When providing care, to adopt ways to put aside personal baggage that will not be helpful or supportive for the person receiving care.
Each strategy discussed in the text serves to guide PSWs and nurses to discover and acknowledge their beliefs and values, and then to put aside beliefs and values that will not be helpful when providing care. In doing so, the PSW or nurse is better able to be present to the care needs of the person and family. In short, explore and know your beliefs and values and, when needed, put them aside if they will not benefit the person your are providing care for.
LGBTQ activist and nurse Kim Acquaviva recently authored a book titled, LGBTQ-Inclusive Hospice and Palliative Care: A Practical Guide to Transforming Professional Practice 4, that specifically addresses discrimination of LGBTQ individuals in health care. Acquaviva also provides practical instructions for health care professionals to develop an LGBTQ-inclusive practice. Like the Life and Death Matters resources, chapter one of Acquaviva's text begins by teaching ways to develop self-awareness, saying "Recognize and assess your attitudes, beliefs and feelings about sexual orientation, gender identity, gender expression/orientation and gender presentation."
Acquaviva's book also teaches readers to create a three-step plan for "mitigating the power imbalance between patient and care provider, and for preventing personal beliefs and values from affecting the care provided."
These resources clearly agree that when care providers develop their self-awareness, and put their baggage aside, they are more able to be compassionate and inclusive when providing care. And regardless of whether you follow Acquaviva's three-step plan or Life and Death Matters' strategies for putting aside your baggage, the final step is the same – changing your practices requires conscious commitment, self-awareness and consistent effort to be successful.
What can every care provider do?
To expand your ability to provide compassionate, LGBTQ-inclusive care, commit to any or all of the following actions:
Developing self-awareness, and consciously practising your skills in putting aside your baggage before providing care. Explore the resources mentioned in this article to learn how.
Wholeheartedly supporting colleagues seeking to build LGBTQ-inclusive practices.
Advocating for LGBTQ-inclusive language and care options in your workplace.
Acknowledging and honouring the person-hood within every individual that you provide care for.
For the final note, I offer the hope-filled dedication from Acquaviva's book for your esteemed consideration:
1 Transgend Health 2021 Dec 2;6(6):332-342. doi: 10.1089/trgh.2020.0098. eCollection 2021 Dec.
2 Integrating a Palliative Approach: Essentials for Personal Support Workers, Katherine Murray, 2020.
3 Essentials in Hospice and Palliative Care: A Practical Resources for Nurses, Katherine Murray, 2016.
4 LGBTQ-Inclusive Hospice and Palliative Care: A Practical Guide to Transforming Professional Practice, Kimberly D. Acquaviva, 2017.