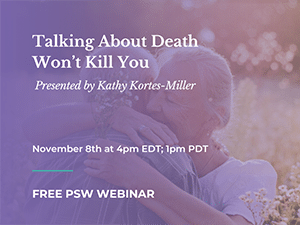 FREE PSW Webinar November- Talking about Death Won't Kill You
Presentation by Kathy Kortes-Miller
Kathy Kortez-Miller is a death educator, researcher, author, and seasoned speaker. In her life, she aims to inspire and prepare people to provide care for individuals who are dying and to support their families.
Her book, "Talking About Death Won't Kill You," is an educational and humorous read about how to have difficult conversations about death with family members, healthcare practitioners, and more. (Watch for our book review, coming in October!)
Kathy is the Director of the highly esteemed Centre for Education and Research on Aging and Health at Lakehead University in Thunder Bay, Ontario. She continues to research and author papers on gerontology, MAID, and palliative care, all while teaching social work.
Learning Objectives
Build an understanding of ways to improve death literacy in your life and community.


Develop your language and communication skills around grief literacy

Understand how to foster a compassionate workplace

Learn how to support family dynamics as someone is dying and ways to ask the hard questions.
Register here