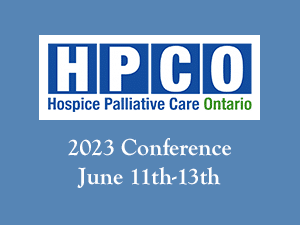 JUNE 11 – Hospice Palliative Care Ontario – Annual Conference 2023- IN PERSON!
As we continue to navigate the challenges of the Covid-19 pandemic, Hospice Palliative Care Ontario is excited to announce that the 2023 conference will move forward in person. The health and safety of attendees, speakers, exhibitors, sponsors, and teams remain the number one priority. So, gather up your team and join in!
The theme of the conference is: "Access, Equity, and Compassion: The Future of Quality Hospice Palliative Care."
Life and Death Matters is excited to have an exhibit booth at the conference, and right next to us, will be the PACE for PSWs booth – so drop by and say hello.
We will be handing out HUGS and KISSES (Hershey's special),  in recognition of all those real hugs and kisses that we missed during the past two years!