The big news in Canada is the legalization of recreational cannabis, starting October 17, 2018. Across Canada, it will be legal to possess up to 30 grams of recreational cannabis in a public place and to grow up to 4 plants on your own property. While medical cannabis has been available legally since 2001, it was only available for purchase from licensed vendors, to individuals who have "a serious or debilitating illness, live in Canada and have a medical doctor's support."
With the legalization of recreational cannabis, some people may experiment to determine whether it might help with their symptoms. In this blog we will try to address these questions and concerns heard from health care professionals:
"How is recreational cannabis different from medical cannabis?"

"How much recreational cannabis should be used?"

"What symptoms can cannabis help with?"

"Does a person have to smoke recreational cannabis?"
Are recreational and medical cannabis different?
While both are products of cannabis plants, medicinal and recreational cannabis can differ in the concentrations of active ingredients. The most common active ingredients, "cannabinoids", are THC and CBD.
THC–tetra-hydro-cannabinol – is the main psychoactive ingredient. Produces lethargy, hypothermia, spatial and verbal short-term memory impairment, affecting cognition, memory, motor movements and pain perception
CBD–cannabidiol – does not affect movement, body temperature or memory on its own. May potentiate effects of THC.
A 1:1 ratio for THC: CBD is recommened for managing pain1. However, the concentrations of cannabinoids can be tailored to suit to medical product, as seen in the Cannimed products.
How much recreational cannabis should be used to achieve a therapeutic effect?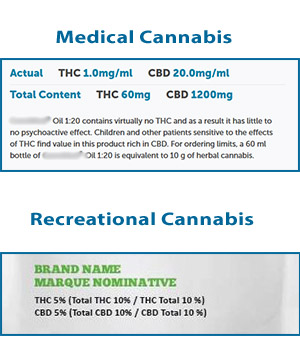 The potency of any cannabis product is dependent on the THC and CBD concentrations, and these concentrations differ depending on the strain of plant and growing conditions. Concentrations of THC and CBD are clearly identified in a medical cannabis product (See Figure 1). The Cannabis Act coming into effect on October 17, 2018 has less specific labelling requirements for recreational cannabis, and requires information-type advertising (THC and CBD concentrations), a required "THC" symbol, and a standard or maximum amount of THC "per serving" (Concentrations shown in Figure 1).  Certainly, THC and CBD concentrations will not be known for home grown recreational cannabis. This may make it difficult to know how much recreational cannabis to use for a therapeutic effect. Sound advice from a medical cannabis producer states "The one important recommendation to follow: Start low and go slow."
What are the therapeutic effects of cannabis?
Cannabis has many effects in humans. It is fascinating that there are receptors in synapes of the brain and other cells of the body where cannabinoids can bind and initiate cellular actions. An intricate endocannabinoid receptor system present in the brain helps to explains the far-reaching drug effects of these compounds. The most recent research supports the use of medical cannabis to help manage the following symptoms for some people:2
Pain
Nausea
Anxiety
Insomnia
There are many other symptoms that are reported to respond to medical cannabis, however these effects have not been clearly substantiated.
It is important to note that cannabis is not the first line of medication for managing symptoms. However, it may be useful in conjunction with other medications, or useful if other medications have not been helpful. For some people, medical cannabis decreases the need for opioids to manage pain.
Do I have to smoke it?
In contrast to recreational cannabis, smoking, vaping or inhaling cannabis smoke for medical use is not recommended. Instead, cannabis used for medical purposes can be administered in the following ways:2
Oils – swabbed onto the mucosa of the mouth, as it absorbs quickly in your mouth and does not smell.
Edibles – incorporated into food and drinks, capsules or tinctures
Suppositories – inserted rectally
Why use medical cannabis instead of recreational cannabis?
There are many reasons a person might choose to try recreational cannabis instead of applying to use medical cannabis. In these cases, there are a few cautions to consider before using recreational cannabis therapeutically.
The THC and CBD content of medical cannabis products must be clearly identified, making it much easier to know and control the amount of each cannabinoid being used. The THC and CBD concentrations of recreational cannabis may not be known, making it more difficult to know how much to use.
For pain management, the recommended ratio of THC: CBD in medical cannabis is 1:1. If concentrations are not identified, it may be difficult to achieve a therapeutic effect.
It can be a disturbing experience for a cannabis-naive person to use a cannabis product with a high level of THC. Paranoia and anxiety are some side-effects that occur with high THC products
Cannabis products can interfere with specific prescription medications. A physician can advise whether there are potential interactions between cannabis and current medications.
For people who have tried many medications, or have suffered with chronic pain or symptoms, cannabis may be their one hope, their only hope, or their main hope. It is not the place of health care professionals to comment on whether cannabis might be a useful medication for them. It behooves us as professionals, to tread lightly on a person's hopes. Cannabis will become a tool among the resources available for symptom control but may not be the cure all that many are hoping for.
Education on cannabis
A useful fact sheet, provided by BC Cancer Agency, answers many common questions about medical cannabis in user-friendly language and is available for download. It may be helpful to share this with the person and family when they ask for advice about using any type of cannabis. Health care professionals interested in more details will appreciate the detailed summary on the Health Canada website, which details pharmacology, uses, and warnings. While the page was published in 2013, the information is still accurate.
These webinars may fit the bill for anyone interested in learning more.
October 31, 2018   "Medical Cannabis – The Essentials for Palliative Care" from the Canadian Hospice Palliative Care Association   Reserve your space
October 17, 2018 "Medical Cannabis: What Every Nurse Needs to Know" through the Canadian Nurses Protective Society. Alternate sessions on November 7 or  December 5.             Reserve your space
[1] Dr. Pippa Hawley, personal communication
[2] https://www.bccancer.bc.ca/coping-and-support-site/Documents/MedicalCannabis/BCCancerMedicalCannabisFactSheet.pdf