Guest Post by Angela Bruce, RN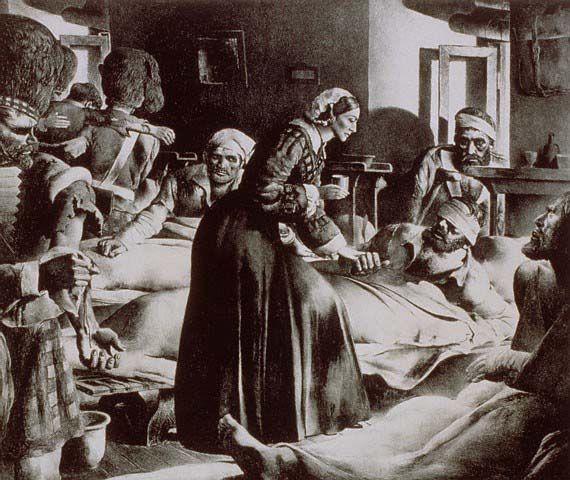 Florence Nightingale in the Crimean War
Photo Credit: www.healinghealth.com
When I think of a single nurse's voice, Florence Nightingale comes to mind. In the midst of the Crimean War battlefields, the "lady with a lamp" provided compassionate care to the sick and injured, murmuring words of comfort and offering a touch to frightened boys, some crying out in distress. In the squalor Florence triaged as she went, knowing that so many needed care and that few would survive to see another day. While Florence is known as the "lady with the lamp" she also used her voice to effect change. She galvanized others to lead with their voices and demand changes. Voices that said it was not acceptable that ten times as many soldiers died in the Crimean War from infectious diseases than from injuries, and that it was also not acceptable that hospital floors in England were covered in straw that was matted with urine and blood. These voices for led to the sanitary conditions and standards of care that we have today.
Today, there are still many serious issues affecting health care where voices that lead could effect change, such as:    
Lack of access to care for any people in need
Scarcity of resources, e.g., personnel, diagnostic services and so on
Non-essential antibiotic use in a world of increasingly resistant organisms
Restricted access to opioids for people experiencing pain and other severe symptoms, in response to overdose deaths and the Opioid Crisis.
I hope nurses can agree that these are urgent issues.
Voices to Lead for Palliative Care Education
Voices to lead can help ensure hospice and palliative care education for everyone
Photo Credit: https://moments.nhpco.org/news-blogs/hospice-photography
Each of the serious issues listed above directly affects the capacity of health care professionals to provide hospice, palliative and end-of-life care. In 2018 the Government of Canada's Framework on Palliative Care in Canada Act acknowledged the need to prepare caregivers in their long term goal that stated, "… all providers have increased capacity to deliver quality (palliative) care." Preparing primary care teams to integrate palliative care for individuals with any life-limiting illness, from early in the disease process through to and following death, in all care settings will help address the serious issues listed above. Using our voices together to integrate and strengthen palliative care education in core curriculum has the potential to prepare health care professionals to deliver palliative care by:
Placing the topic of death on the table as a normal part of living and a topic for discussion.
Encouraging information sharing, advance care planning and discussions of goals of care.
Supporting the intentional use of emergency departments and acute hospital admissions.
Supporting informed and effective prescribing of medications for symptom management (including safe prescribing of opioids).
Providing learner-centered palliative care education in the workplace, and mentoring individuals before, during and after education, may also inspire more members of the health care team to seek out additional education and become specialist palliative care providers.
With the aging population, limited resources, and the desire to provide excellent care for people with any life-limiting illness, palliative care needs to be part of core curriculum for every member of the health care team.
Just as our predecessors used their voices to lead and improve care for today, let us join our voices to lead and improve care for tomorrow.