A few weeks ago, I wrote about competencies for nurses, health care workers and health care professionals. Exploring the competencies helps me identify and select appropriate content for teaching. The competencies helped guide me as I wrote the nurses text and the PSW text. Can the competencies also help educators to integrate hospice palliative care content into core curriculum? In short, yes they can. They can by helping address these questions,
" What are the goals of this education? What do I need to teach? When in the program can I teach it?"
As educators, you may be looking at how to integrate hospice palliative care content into the curriculum that you teach. This can feel like a daunting task. However, this task has just become easier. This past month, the American Association of Colleges of Nursing (AACN) published a fabulous document titled, "CARES: Competencies And Recommendations for Educating Undergraduate Nursing Students Preparing Nurses to Care for the Seriously Ill and their Families." In this document, they have laid out 15 competencies for nurses providing hospice and palliative care. The document also identifies where the hospice palliative care content aligns well with the pre-existing course content! By aligning the hospice and palliative care content with current content, (rather than specific course names), the AACN avoids the problem of trying to align HPC content to specific courses taught at different colleges.
 "Nursing schools use a variety of approaches to organize curriculum. There are common content areas, even though the particular courses may have different titles at different schools."
This document might help you to integrate hospice palliative care content into your core curriculum by identifying common content areas in your current courses. To give you a preview,  an excerpt from the table in Appendix 1 of the AACN CARES document is provided below, showing two common content areas in nursing education where hospice and palliative care topics can be integrated seamlessly into the core curriculum. Click on the table to view the entire CARES document, including the table in Appendix 1.
Common Content Areas in Nursing Education where Hospice and Palliative Care Can be Integrated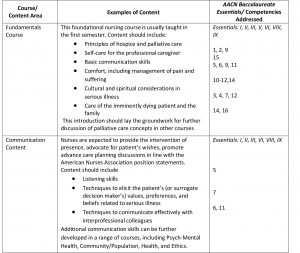 When? When to begin teaching hospice and palliative care?
Articles on nursing education suggest that it is important to introduce the topic of death, and to discuss death before the student has their first practicum. In this way they will be prepared if they face death for the first time in their practicum. Monserrat et al[1] state,
"Specific training in end of life care should be offered at the start of nurse education through a combination of experiential and participatory methods. Adequate training of this kind would help to ensure that future nurses offer high-quality care to patients and the families, minimizing the impact of death and preventing emotional fatigue."
As an end note, they suggest,
"Further research is needed to assess the effectiveness of training programmes."
And so for now, we know that exploring the topics of death and dying before the student's first practicum is a good way to begin.
I hope that the CARES document helps you to integrate hospice and palliative end of life content into core curriculum. No matter what country you live in, the ideas can be adapted to your curriculum. If you have questions about the how's, and whens, and where, I would be happy to discuss these with you.
And although I focused today on integrating hospice palliative end of life care (HPEOLC) content in core curriculum for nursing students, the same process and ideas can be used when planning for continuing or workplace education, and the same process can be used when integrating HPEOLC content in core curriculum for Personal Support Workers, Health Care Assistants, Nursing Assistants.
Next time
I'll share strategies for helping students understand content, and develop the knowledge, attitudes and skills for providing hospice and palliative care.
[1] Montserrat Edo-Gual, Joaquín Tomás-Sábado, Dolores Bardallo-Porras and Cristina Monforte-Royo. (2014). The impact of death and dying on nursing students: an explanatory model. Journal of Clinical Nursing.
doi: 10.1111/jocn.12602