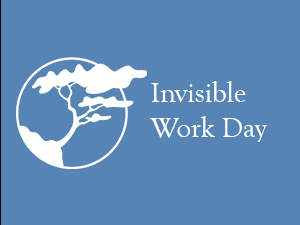 Invisible Work Day
Invisible work is defined as "work performed for little or no pay, including work performed within the family, by family caregivers, for the family business, volunteer work, or work performed as part of an unpaid internship." Invisible work is work that was typically done by women in the home while men worked a job, but today, invisible work is still typically done by women even while women have their own jobs and careers to take care of.  Invisible work is taken for granted and unrecognized in the family and in society at large.
If you are interested, read the brief submitted to the Canadian House of Commons in 2021, by the 'Association féminine d'éducation et d'action sociale' (AFEAS) titled "Invisible Work Counts! Recognizing the Invisible Work of Parents and Caregivers By Measuring It and Including It in Canada's GDP."
Today, we would like to recognize in particular the family caregivers who spend hours of their time taking care of aging family members, going to doctor's appointments, doing the grocery shopping for them, and overall providing care for their loved ones who may not even accept that they need help.
We recognize you, and thank you for persevering and providing care. Do not be afraid of reaching out for help, either to listen or to help lighten your load. Reach out to your province's caregiving resources, such as Family Caregivers of British Columbia.
"That is why, for the past 22 years, the AFEAS has been strongly encouraging us to take a day to reflect on what our society would be without invisible work, without all the often unacknowledged hours spent taking care of others. We are all invited to think about how best to ensure a fairer distribution of invisible work."
Andréanne Larouche