Palliative care, dying, death, and caring for a dying person are topics that many people are not familiar with and may prefer to avoid. We hear from educators that many PSW students are fearful or apprehensive regarding palliative care, care of the dying, and care of the body after death. It must become frustrating at some point to be teaching about topics that are truly difficult for your students.
One of the goals of Life and Death Matters is to support educators in their teaching. We understand that you are often short of time and resources. We created the Instructor's package – which is FREE for you[1] to support you in your teaching. This article discusses how best to get the most from the resources at Life and Death Matters. We know that when educators are supported, the students are better prepared for learning skills and practices for integrating a palliative approach.
Reflect and Prepare
Remember the analogy of putting your oxygen mask on first (if oxygen is needed on an airplane) before you help anyone else. The message, "take care of yourself first" – if you don't take care of yourself first, you will not be able to help anyone else. The same is true for teaching about dying, death and integrating a palliative approach. As you will see, there are two parts to taking care of yourself – reflecting and preparing.
Reflect
Reflect on your own issues, fears, and concerns about caring for the dying person and their family before you teach about loss, grief, dying and death. As an educator, you need to put your beliefs and baggage aside. If you are caring for someone who is dying in your personal life or grieving a death or a loss, it may be more difficult to teach about loss, grief, death and dying. If this is true, please take the time to reflect on your experiences and prepare yourself before you invite students to do the same. You have access to the reflective activities in the workbook. You may want to use some of these reflective activities for your explorations.
Use Your Instructor Membership
Secondly, prepare yourself to teach this unit by getting an Instructor's Membership at Life and Death Matters. The Instructor's membership is available to educators where the school is using the Life and Death Matters resources[2] for teaching the module/course on providing palliative care and a palliative approach.
Instructor's Membership Includes:
Digital text and workbook
Podcast and video libraries
Teaching presentations – Ready-to-use PowerPoint presentations with lecture notes, and learning activities.
Instructor's Guide – THE guide for educators teaching a palliative approach. Includes lesson plans with learning outcomes, reading assignments, teaching presentations, workbook questions, recommended activities, relevant podcasts and videos.
Quiz questions, marking rubrics
If you are teaching using the Life and Death Matters resources, request your instructor's membership using this link.
With an Instructor's membership, you have access to the online PSW textbook, Integrating a Palliative Approach: Essentials for Personal Support Workers, Second Edition. Because the resource is online, you can access it anywhere you go (where you have internet access).
You can access the companion workbook, as well as the engaging and delicious videos and podcasts. These media resources were developed specifically for students learning to integrate a palliative approach and to provide compassionate care. The resources in the media libraries discuss how to meet the required competencies, and address questions and fears expressed by students, such as, "What do I say when…." Or "What do I do when someone is dying?"
In addition to these practical resources, for educators it is the Instructor's Guide and the teaching presentations that make this membership so special. The Instructor's Guide takes the worry out of teaching. It includes lesson plans designed to meet vocational learning outcomes and national palliative care competencies for PSWs.
The step-by-step lesson plans include the recommended preparation for Instructors and students. Also included are the relevant text readings, workbook questions, podcasts, and videos for each chapter of the textbook. The teaching presentations include lecture notes and help the instructor walk the students through the workbook. In fact, following the Instructor's Guide leads students to answer almost all the workbook questions. Aside from fine-tuning the content for your location and specific class, your teaching plan is already complete!
With all the prep work taken care of, educators may feel less rushed, less stressed, and hopefully more comfortable and confident when teaching the palliative care module.
If your school is not yet using the Life and Death Matters resources for teaching the palliative care content, it may be a good time to review your program materials and consider the benefits of these resources for students and Instructors or consider purchasing the Instructor's membership separately.
Set your Students up for Success
Students who used the Life and Death Matters resources, including the online media library, reported feeling more comfortable and confident when providing care for a dying person. Therefore, it is essential to help students access the online resources. This is about the process of distributing codes and supporting students to create account, use membership codes and open the online resources. Follow these recommendations to fully support your students.
Get the membership codes by email ASAP: Connect with the person in your organization who orders student resources from Life and Death Matters. Ask them to add your email address to the checkout form when student resources are purchased. There is a field in the checkout form specifically for adding the Instructor's email address. This will send the list of membership codes directly to you – fast!
Distribute codes electronically or print on label pages: Eliminate copying errors when distributing membership codes.We recommend sending codes by email or printing them to a sheet of labels. Either way, students receive the codes in an easy-to-read format.
Choose your font wisely: The font you choose when distributing the membership codes can make a significant difference in readability. Use a font that makes it easy to distinguish between similar characters and numbers. For example – can you identify the characters in the image below?
---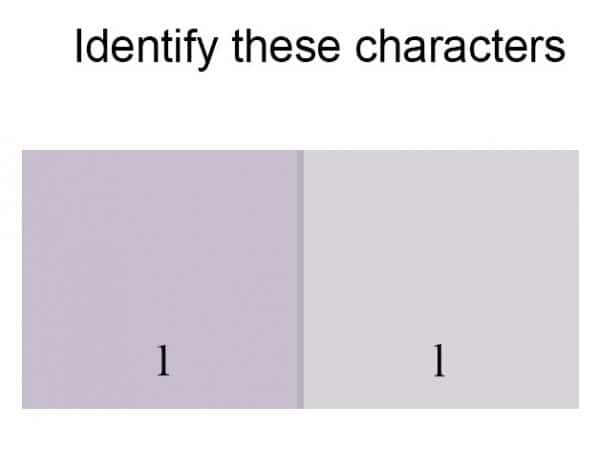 What do you see? Is one of these the number 1? Is there an upper-case letter "I"? Or is one a lower-case letter "L" Check the bottom of this article for the answers.
We recommend that you use a "sans serif" font (meaning no small lines or hooks on the characters). Ariel is a common sans serif font to consider.
As educators, you are the most important key to your student's learning. We hope these keys will help support you and your students as you teach about a palliative approach and providing end-of-life care. We hope in the days ahead you can be kind, be careful and be compassionate to yourself and others in your teaching and everyday life.
---
[1] Instructor's Packages are available for free to educators at colleges using the Life and Death Matters resources for students.
[2] In this instance, "Using the Life and Death Matters resources for teaching" refers to the requirement for colleges to purchase a minimum of ten packages of resources per semester or term.
---
Identify these characters: Answers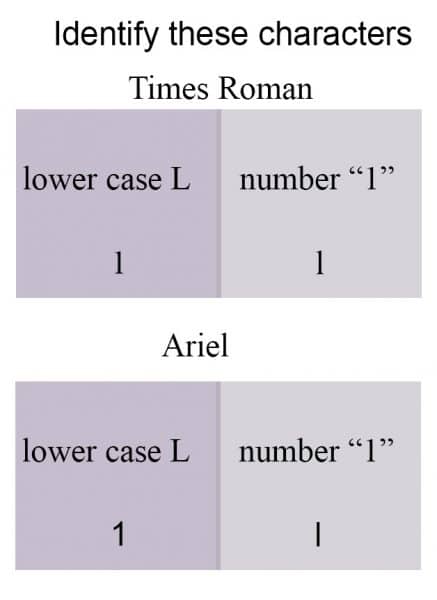 The characters in the top box use Times Roman font. On the left is a number one and on the right is the lowercase L. You can see how these two characters are much easier to distinguish using Ariel font, as in the lower two boxes.